Port equipment training simulators are an advanced, technology-led answer to the expanding skills requirements at terminals.
They can help ports solve the productivity puzzle, by ensuring workforces have the necessary skills to meet the demands of a continually evolving sector.
Using crane simulators can significantly reduce accidents, enhance safety awareness, cut down training on live equipment and reduce the overall training time.
How can port terminals enhance their productivity?
Automation is on the rise in port terminals globally, as a means of improving efficiency, increasing capacity and boosting productivity.
However, automation also places more demands on operators. A risk for ports is that, with automation, they see a productivity drop due to a shortage of skilled operators and instructors.
Port terminals that wish to reap the productivity benefits of automation must first enhance their training programmes to accelerate the skill-acquisition process.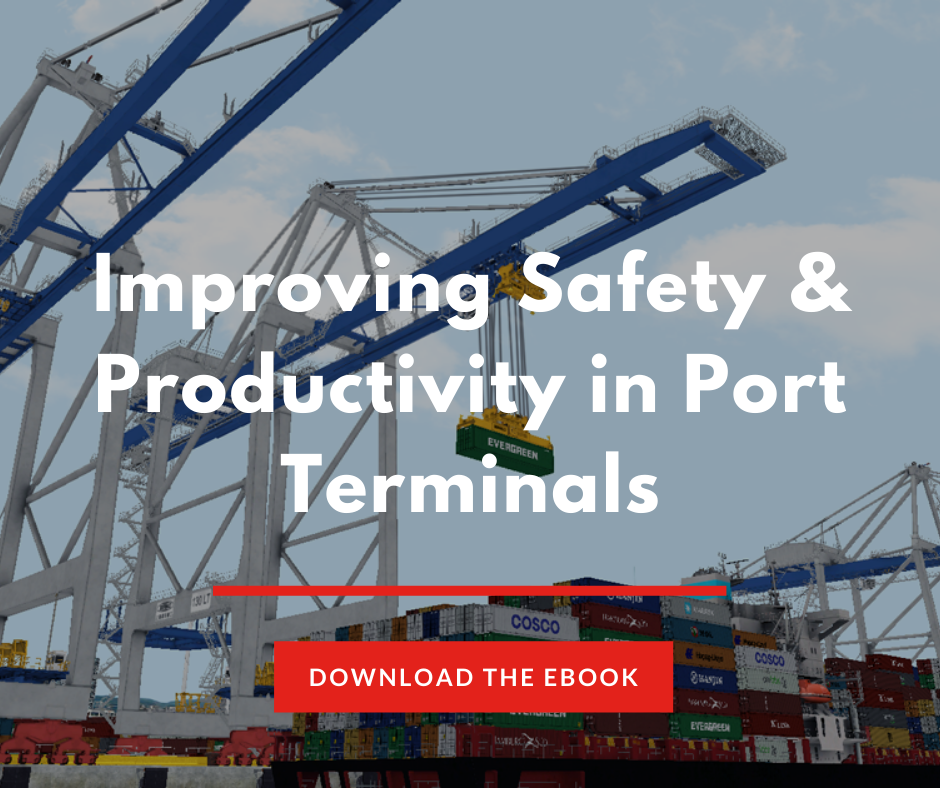 How to make training more effective in ports?
Raising the skill levels in port terminals should involve a process. Ports need to identify their leading operators, who will then able to guide change and keep it on track to deliver enhanced productivity. This requires bringing total workforce productivity up to baseline levels, then building on this foundation.
To do this, ports will require the appropriate training tools.
Key issues around training on real equipment include safety and resources. For novice operators to train on real equipment immediately, such as ship-to-shore cranes, has inherent health and safety challenges. There is also a risk of damage to the equipment during training.
Then there is a question of resources; when real port equipment is used for training purposes, it is not available for normal operations.
Port equipment training simulators provide the solution. The simulators enable trainees to develop skills and proficiency in operating equipment before they engage in real-world training.
Training simulators also make it easier for port terminals to objectively analyse where there are skills gaps, and to adjust their programmes and exercises accordingly.
Because port equipment training simulators provide realistic training environments, practical exercises, and also simulate the remote operating equipment, they help smooth the transition to semi-automated, or fully-automated, equipment and systems at ports.
Vortex simulation-based training platforms from CM Labs are flexible and adaptable, and available at different levels, from entry-level desktop training to highly-immersive simulation training.
These advanced simulation-based training systems can provide port terminal operators with the transferable skills that would otherwise only be achieved on real equipment.
What are the health & safety benefits of port equipment training simulators?
Health and safety issues are integral to the safe, efficient and productive running of the port terminals. With simulation based training, operators can undergo their training risk-free, in true-to-life simulated learning environments.
Health and safety in ports is a commercial factor as well as being about meeting legal and moral obligations.
Ports must plan and mitigate for risk, and ensuring safe and effective operator training is a part of this planning.
Operators must work large pieces of equipment, such as cranes, in busy, rapidly-evolving environments. And, with automation, while controls enable high levels of accuracy and manoeuvring, they also require the necessary skills to conduct operations safely.
Simulation-based training allows for adaptive learning, where the focus is on individual trainees and developing their skills.
A training simulator's Instructor Operating Station (IOS) provides a series of dedicated tools to support instructors in monitoring the capabilities of trainees closely. This training prepares operators with the necessary grounding for working in demanding, busy automated port environments.
Developing this lead time is critical in giving operators the crucial knowledge and experience to operate sophisticated, remote-operated equipment safely.
What are the cost savings from simulation-based training for port terminals?
Training is an investment, in the same way that automation is. Ports must weigh the need to evolve their equipment and processes against the demands of skills development. Without these skills, they cannot necessarily expect to see expected returns on investment.
What simulation-based training offers is a cost-effective means of developing skills in the workforce and, in so doing, solving a productivity puzzle.
Automation should lead to increased productivity compared to traditional training. The appropriate training can help to ensure this while offering cost savings to ports.
Generally, simulation-based training accelerates the learning process, providing a faster path to operator readiness of between 25% and 55%.
It produces more confident operators, who are more productive from their first day on the job. And those operators who are already experienced can use simulators to refresh or enhance their existing skills.
It is reported that the productivity rate after simulation-based training is around 82% of the operational standard for an experienced operator, compared to 65% of traditional training on live equipment. This is during the first 15 shifts after training.
Conclusion
For ship to shore operations, simulation-based training solutions can simulate every step of the port workflow, from ship loading/unloading to horizontal transport to yard management, including:
Ship-to-shore cranes
Mobile harbour cranes
Ship pedestal cranes
Straddle carriers
Forklifts
Rubber-tyred gantries.
It provides a seamless training transition and operator experience from the simulated to the real working environment.
It is safe, efficient, rapid and adaptable, and offers significant cost savings for port terminals.
At ST Engineering Antycip, we deliver simulation based training solutions for the maritime, ports and offshore sector for clients across Europe.
For more information on how port equipment training simulators can be beneficial to your organisation, please don't hesitate to contact us.