MarSEVR technology is helping to drive the growing use of virtual reality (VR) in maritime safety training. This is an aspect of training in the maritime sector that has the potential for significant expansion.
The global virtual reality (VR) market continues to grow, and Goldman Sachs estimates that it will be worth $59 billion by 2025.
VR is becoming more widely used in various sectors. One of these is education and training.
There is an ongoing development of education tools involving simulation technology, and a recent simulator project is MasterSIM. This is a remote operation simulator for studying autonomous ship operations, procedures and technology.
New navigation tools have significant implications for maritime safety, and the Sea Traffic Management project has been researching this. Large-scale simulator runs have tested the new Electronic Chart Display System (ECDS) to see how it affects navigational safety and operator workloads.
Why the Maritime Industry Needs VR Simulators
As an interactive technology, maritime VR offers ways to educate trainees in immersive environments.
One important use for VR in this context is in training for situations that should not happen, or dangerous conditions.
Key benefits of simulation-based training are that it is hands-on, and that it is measurable in terms of individual performance. This makes debriefing highly important in realistic simulator training.
Education currently holds the smallest market share of VR and AR (augmented reality) in global markets, but it has considerable growth potential, especially in the maritime industry.
Container shipping remains a leading industry globally, but the shipping sector faces big challenges in integrating advanced technologies into its operations.
This includes autonomous shipping and modern control systems. Then there are the threats of cyberattacks and data theft to consider, along with the demands of decarbonisation.
Safety remains a challenge. Research shows that 49 per cent of organisations with effective safety cultures are less likely to have workplace accidents, and 60 per cent make less errors in the workplace.
Simulators can help nurture a safety culture in the shipping industry, providing they are reliable and effective.
However, there is the concern of how demand might outstrip supply.
The International Chamber of Shipping estimates that there are currently 1,647,500 seafarers serving on internationally trading merchant ships.
Maritime Education and Safety Training
Will the maritime industry adopt simulation as a viable option for maritime safety training?
In the airline industry, for example, simulation is an established practice for risk-free training that tests the capabilities of its users rigorously.
In the shipping industry, training is still very much based on time-serving in a physical, real-world environment.
The issue here is that, with modern, technologically advanced vessels, this sort of physical training does not prepare people for handling unexpected challenges.
Generally, on board such a vessel, trainees encounter few practical challenges.
What maritime simulators can do is take a proactive approach to training, and help ensure it meets the sector's aims of continuing to improve its standards and practices.
Moreover, where it is in use, maritime education with simulators is an advanced field worldwide.
It encompasses a good theoretical grounding, followed by extensive, practical exercises, with the object of delivering a better understanding of decision-making processes, and how different actions can affect a situation.
Maritime safety training is critical in improving safety at sea. There are various training programmes for this, and consequently numerous training academies offering a broad range of training methods and courses.
Various leading organisations have invested considerably in maritime safety training, VR and simulation, including Lloyd's Register, Korean Register, Kongsberg Digital and Mitsui OSK Lines.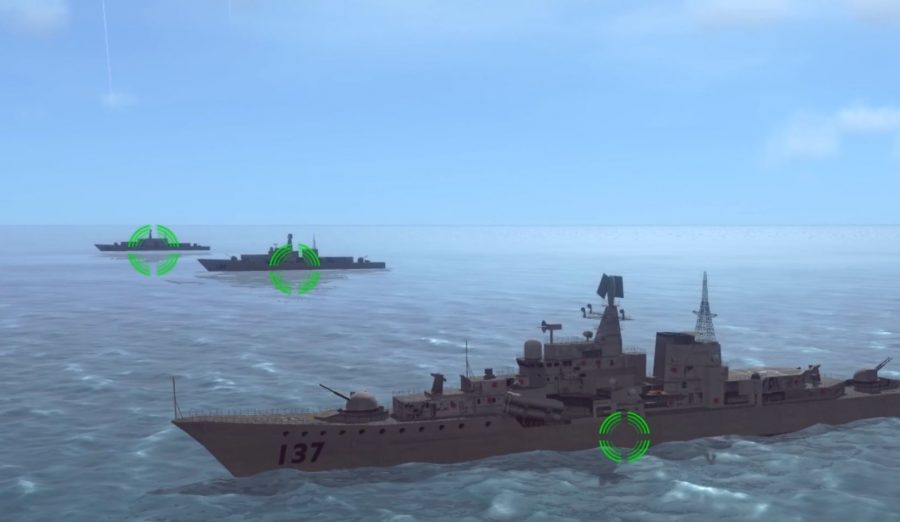 What is MarSEVR Technology?
Maritime Safety Education with VR Technology (MarSEVR) is a maritime VR training prototype technology, designed for use by both trainees and professionals in the sector.
For simulation-based training technology to be effective, it should focus on specific operations. For example, MarSEVR is a bridge simulator.
Decision-making on ships' bridges is challenging, professional skill. It requires decisive action in conditions that can change rapidly and dramatically.
A bridge simulator is customisable, generating challenging training conditions to test scenarios that would otherwise be impossible to create in the real world, due to both risk and expense.
The approach to developing MarSEVR has been not to have any limitations for its learning content, making it distinctive from other, traditional command bridge simulators.
Drawing on design principles similar to those in the gaming industry, the technology in MarSEVR implements immersive training scenarios that fully engage the user as a first-person protagonist.
These learning environments are configurable for various, specialised features and difficulty levels.
After each exercise, the instructor can debrief the trainee, playing back the entire sequence.
Another benefit of MarSEVR is its portability, enabling its use on board vessels as an enhancement to training.
MarSEVR Training Operations
The goal of each training scenario is to enable trainees to practice decision-making and situation awareness through replication of the ship's bridge environment.
These various training scenarios have different levels of difficulty:
Watch change and collision avoidance – this involves the handover on the bridge, when one navigational officer relieves another. The training scenario tests the user's readiness to plan and execute their duties, and to take actions early to prevent events spiralling out of control.
Container ship scenario – here the user takes over the watch on a container ship at 4am and encounters a small fishing boat and shallow water simultaneously. The user must take the correct action to avoid either running aground or colliding with the other vessel.
Within these scenarios, MarSEVR can add various other elements, such as equipment failure, or poor visibility, to challenge the trainee.
It moves training away from simply the routine, to incorporate unexpected and potentially hazardous events.
Developers are developing a comprehensive backend system for MarSEVR to include learning analytics and dashboard services for administrators. This will help evolve the system into an advanced form of maritime VR training technology.
Contributing to the Maritime Sector
Around 60 to 80 per cent of accidents are due to human error. In the maritime sector, there has been a stronger emphasis on operator training, to try to minimise human error.
Simulators provide immersive training conditions to prepare operators for the conditions and practical challenges they will face in the real world.
However, at present, the integration of technology in maritime operations is outpacing improvements in training methods.
Therefore, next-generation maritime simulators should be in an ideal position to offer the enhanced training that these new technologies in shipping and other maritime industries require.
Currently, there is a training gap, with a lack of:
Realistic training in immersive environments
Simulated accidents and unexpected events in realistic scenarios
Integration of technical tools to support training and learning
Objective assessment of performance
Simulator-generated performance data
Team training
Training of non-technical staff
Use of data and research from other sectors with more developed training technology.
MarSEVR can address all these issues, and help close the training gap in the maritime sector.
Where Next for MarSEVR?
The technology of MarSEVR is still in its early stages. The plan is to integrate further hardware and software into its functions, including:
Varjo VR-1 headset with human-eye resolution
A broad range of safety training simulations, beyond watch change.
The more extensive MarSEVR's capabilities, the more diverse the areas will be where it can be a valuable training tool. It should be capable of training beginners and experienced personnel to the highest standards.
Conclusion
MarSEVR aims to address critical maritime training challenges and to contribute to the standardisation of advanced training methods throughout the maritime sector.
It represents a significant step forward in developing dedicated, technology-based maritime safety education.
For more information about maritime simulator training, please contact us.