Antycip Enhance Customer Experience with Regional Demo Centre in Italy
October 26, 2017
: ST Engineering Antycip (formerlyAntycip Simulation), a virtual reality and 3D immersive solutions integrator, and the European leader for simulation software, today opens its Regional Demo Centre in Saronno near Milan (Italy). With the capability to demonstrate a full range of simulation, visualisation, training and virtual reality solutions, this new state-of-the-art Demo Centre puts the company's expertise under one roof and is symbolic of its commitment to supporting customers from a broad range of markets with bespoke solutions for their projects.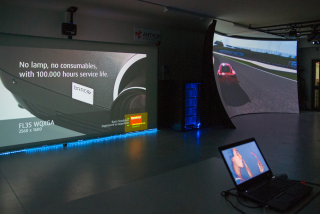 Created together with projection partner
Barco
, the Centre is equipped with three large display stations: flat screen, curved screen and spherical screen. This unique facility further enhances Antycip's offering to its customers in the
defence industry
in Europe, and in particular in Italy and DACH region, supporting them with product demonstrations, modelling, analysis and laboratory facilities. The Centre's capabilities will also help Antycip address the growing design, academic and engineering sectors, where Virtual Reality technologies are increasingly in demand. The latest display solutions are complemented by a broad portfolio of software solutions for simulation, analysis and digital rendering – all underpinned by Antycip's renowned expertise in this specialised field.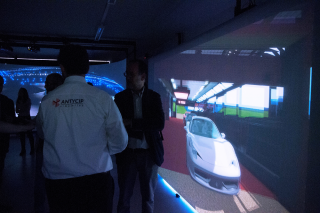 The flat screen display station features a 180" flat screen with a Barco F50 UST (ultra-short throw) projector. It can be used as a very large traditional display for classroom style training and review meetings, or alternatively as a stereoscopic display, for one side of a Virtual Reality CAVE. The curved screen area comprises a 2.5m wide 2m high curved screen, with 180-degree field of view, and three Barco F22 wide lens projectors, warped and blended to produce one seamless image. Such displays are used in a range of simulators, from flight and driving to air traffic control and bridge.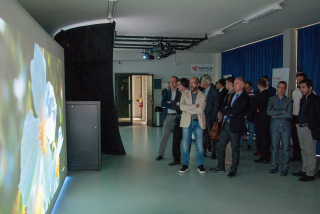 The spherical screen facility has a 3.25m radius, a vertical field of view of +14;-40 degrees, and a horizontal field of view of 120 degrees. Warped and blended to give a seamless single image from four Barco F50 projectors with EN55 wide lenses, displays like this are like a large slice of a globe, and provide users with a highly realistic display for a range of simulation applications such as high end flight simulators and individual ground forces simulators.