Expert operation of quayside cranes is essential to port efficiency, safety and productivity.
With increased automation at port terminals, cranes require significant skill levels for safe, proficient operation.
Simulation-based training solutions provide port operators with a rapid, cost-effective means of raising skill levels, without impacting on live activities in the process.
Vortex simulators, from our partner CM Labs, offer a range of simulators to help train heavy equipment operators and provides the leading operator training solutions for the construction, maritime and port industries.
Read on to find out more about the benefits of using quayside crane training simulators in the training of port terminal operators.
Benefits of Simulation Based Quayside Crane Training Solutions
Integrating simulation into the training programmes of Quayside cranes in port terminals resulted in the following benefits:
More than 30% increase in the rapidity of training
A 40% increase in trainees meeting and exceeding required operational standards
50% reduction in training time
150% increase in successful operator training
These figures come from several ports worldwide, which have used simulation-based training to align investment in equipment and infrastructure with an investment in developing skills.
Port equipment training simulators provide dedicated simulation-based training packs for quayside crane operators, where trainees undergo training on a series of progressive scenarios, enhanced by simulation of rigging and hoisting systems, terminal traffic and trainer-controlled virtual environments, replicating real-world conditions.
Types of Quayside Crane Simulators
Broadly, quayside crane simulators can simulate the workflow and operation of various quay cranes that are used to transfer cargo between land and ship, such as:
Ship-to-shore (STS) cranes
Mobile harbour cranes
Ship pedestal cranes
1- Megamax STS Crane Simulator
This is a highly-realistic simulator, which takes trainees through rigorous ship-to-shore crane exercises in a risk-free learning environment.
The Megamax STS Crane Simulator provides competency-based training, designed to embed skills in operators through repeatable exercises and adaptive learning techniques.
The training is true-to-life, based on load charts, specifications and other information from crane manufacturers.
The simulation crane's properties include:
30-metre span
56-metre waterside outreach
22-metre landside outreach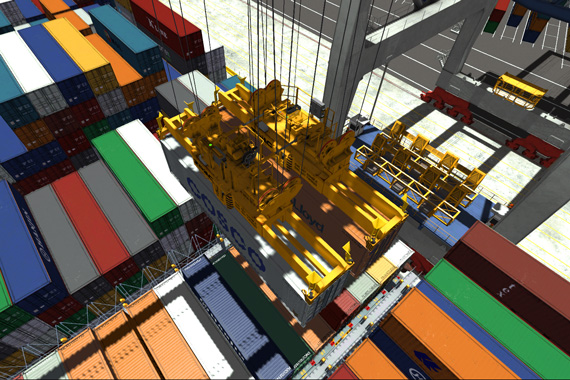 This is an accurate reproduction of actual crane dimensions, which then replicates the behaviour of equipment under different conditions, involving various load scenarios.
The simulations include hoisting, gantry and boom functions and a dual spreader system.
The simulator also includes 2D camera feeds for working in deep ship pockets and an integrated container management system.
Flexible customisation options mean that the simulator is adaptable for different training and learning requirements. These customisable features cover the simulated crane's performance, but also the scoring criteria of exercises. The instructor can, therefore, set specific benchmarks and targets, with corresponding scores and performance targets for individual trainees.
2- Panamax STS Crane Simulator
Like the Megamax training pack, this ship-to-shore crane simulator focuses on the skills operators must acquire to reach safety and productivity levels rapidly and effectively.
It includes multiple load types, from 20′ and 45′ containers to breakbulk and liquid storage containers.
The Panamax STS Crane Simulator will simulate these crucial aspects of crane operations:
Gantry, trolley and boom movement
Hoisting and rigging
Bulk handling
It includes a spreader system for standard and extra tall shipping containers, and an integrated machine control system.
As with other crane simulators, flexible training and assessment capabilities are embedded in the simulator's exercise builder, which gives instructors the ability to adjust training according to individual need.
3- Mobile Harbour Crane Simulator
The Mobile Harbour Crane Simulator provides a safe, accessible training environment, which reproduces actual equipment functions and port conditions faithfully and vividly.
It is designed to equip trainees with a comprehensive level of preparedness for using real mobile harbour cranes.
Therefore, its training exercises incorporate a huge range of potential operating challenges for mobile harbour cranes, including:
Complex lifting trajectories
Obscured or comprised views when operating
Night time operating conditions
Unexpected equipment failures
Twist lock failures
Rigging snags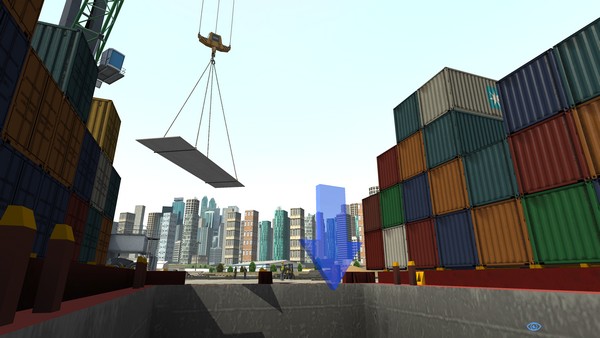 It is designed to give trainees a thorough grounding in all aspects of mobile harbour crane operations, familiarising them with the equipment and the environment it operates in.
The Mobile Harbour Crane Simulator can work for all operator skill levels, from the novice to the experienced operator looking to refresh or enhance their existing skills.
It has unique assessment tools, including real-time hook block map and load path graph.
During the training exercises, the simulator will track all performance metrics, collating them into a single operator score, which will update in real time.
As with other crane simulation training packages, there is an exercise builder for customisation of scoring and benchmarking, adding unlimited exercises to align with individual training requirements.
4- Ship Pedestal Crane Simulator
Training on the Ship Pedestal Crane Simulator enables trainees to learn how to work in and around ship holds, lifting and landing loads, in a completely safe learning environment.
The skills trainees learn on a simulator are then directly transferable to real equipment, giving them valuable lead time to develop the essential skills they need for safe, efficient working in ports. Using this specialist, dedicated training simulator they learn to manage bulk cargo and different kinds of loads, including multiple ones.
The simulator reproduces true-to-life conditions and challenges for trainees, including weather, wind and waves. These are all adjustable as part of the programming of individual training exercises.
Replicating equipment performance, the Ship Pedestal Crane Simulator covers the following functions:
Hoisting, booming, slewing and hook rotation
Lifting and landing loads
Bulk material handling
Container handling
It will also simulate equipment faults, to create the types of problems and challenges operators face using real equipment. The training simulator is designed to reproduce the major components of actual port equipment, including physical and mechanical properties. For a trainee, this ensures that the simulation feels like the real thing.
Its training programmes and exercises are customisable for individual users, and include an exercise builder, adjustable crane performance, and customer-specific scoring criteria for different scenarios.
Conclusion
In addition to learning the operation of various crane equipment, the port equipment training simulators can be used to train operators how to react properly to operational hazards that cannot be safely trained for on a real operational terminal; this may include overloads, bad weather, and equipment failures.
Therefore, simulation based training solutions play a hugely important role in ensuring safe and efficient ports, and in aligning the development of employees' skills with productivity objectives and ongoing technological transformations.
For more information about simulation-based training solutions for port terminals, please don't hesitate to contact us.